Get your own Epiphany water (exorcised and blessed by Fr. Ripperger) sent right to your doorstep (free of charge, of course!), arming you for the spiritual battles you face each day. Fortified with this sacred sacramental, fight valiantly the good fight of faith! (Limit one per person.)
Please take the Epiphany Holy Water and sprinkle drops in places you discern need to be reclaimed back to God. - Fr. Richard Heilman
Fr. Chad Ripperger Offers Rite for Providing Holy Water
On the Vigil of the Epiphany (Sunday, January 5, 2023), at St. Mary of Pine Bluff, WI, a packed church joined renowned exorcist Fr. Chad Ripperger to offer the Rite for Providing Holy Water.
While there is no official teaching about the superiority of one sort of holy water over another, there is an opinion that is a common one among exorcists and emerges from their experience that using solemnly blessed holy water vexes the demons during an exorcism more than simply blessed holy water.
Epiphany water is considered the most potent of holy water, because it is blessed once a year on the Vigil of Epiphany and blessed using an extensive liturgy, similar to vespers. It is mixed with exorcised salt, and the exorcism over the water is lengthier. Hence it was deemed more potent by many, especially exorcists.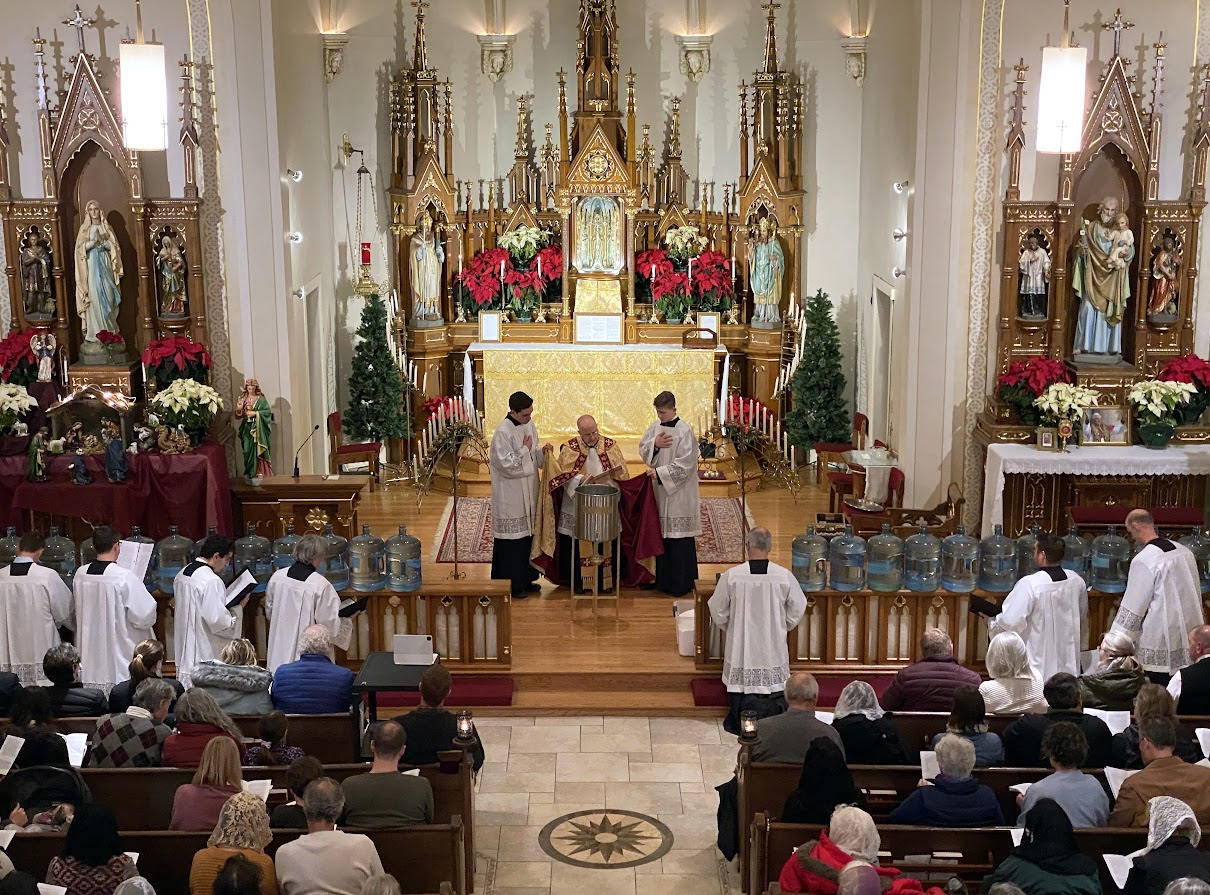 An Exorcist Explains How to Defeat Demons
Listen to the USGF Podcast
iHeart Radio, Spotify, PodBean, Apple Podcasts, Google Play, Stitcher
"I have found by experience that there is nothing from which the devils fly more quickly than from holy water." (St. Teresa of Avila)
Epiphany water is powerful holy water and a potent protection against evil.
This special holy water is blessed once a year on the vigil of Epiphany using a special rite of the Church, which includes an exorcism of the water as well as exorcised and blessed salt.
Just as Christ sanctified the waters at His own Baptism in the Jordan River, the blessing of Epiphany Water reminds us that Christ continues to sanctify and save us through water today.
Ways to use Epiphany Water
Bless yourself. Dip your finger in holy water and make the sign of the cross.

Bless your family. Use holy water to make the sign of the cross over your spouse and children.

Bless your house. Sprinkle holy water in your home for protection from evil.

Bless your office. Sprinkle holy water in your work space for protection and to sanctify your work for the glory of God.

Bless your car. Sprinkle your car with holy water for protection on your travels.

Bless the sick. Pray for God's healing for the sick.

Bless your land. Sprinkle holy water on gardens and fields asking God for a good harvest.

"Please take the Epiphany Holy Water and sprinkle drops in places you discern need to be reclaimed surrendered ground back to God." - Fr. Richard Heilman